FINDING DORY 2016
LIFE LESSONS
I  love the movies! Even kid movies! Did you know that you can learn some of life's lessons from watching a movie through the lens of God's Word.  If you liked the movie Finding Dory 2016, you will love this article.  Use it for your own benefit or have a devotional time with your kids.
Let's talk about Jesus for a minute. He was a kid at heart. He was never the type of person that was too busy to be with children. One of my favorite passages in the gospels is where they were bringing the children to Jesus and he was putting his hands on them and blessing them. I would imagine that he had his way of relating to them. Perhaps he had stories that he told that brought the children closer to His Father.  I can actually imagine Jesus playing with the kids.  We do know this: There was something about him that caused the kids wanted to be blessed by him.
Matthew 18:3   "and said, "Assuredly, I say to you, unless you are converted and become as little children, you will by no means enter the kingdom of heaven."
 The challenge we have today as adults is to take off our intellectualism and actually become as little children.  This article is going to teach from the Word obviously, but we are using illustrations from a delightful children's movie entititled "Finding Dory".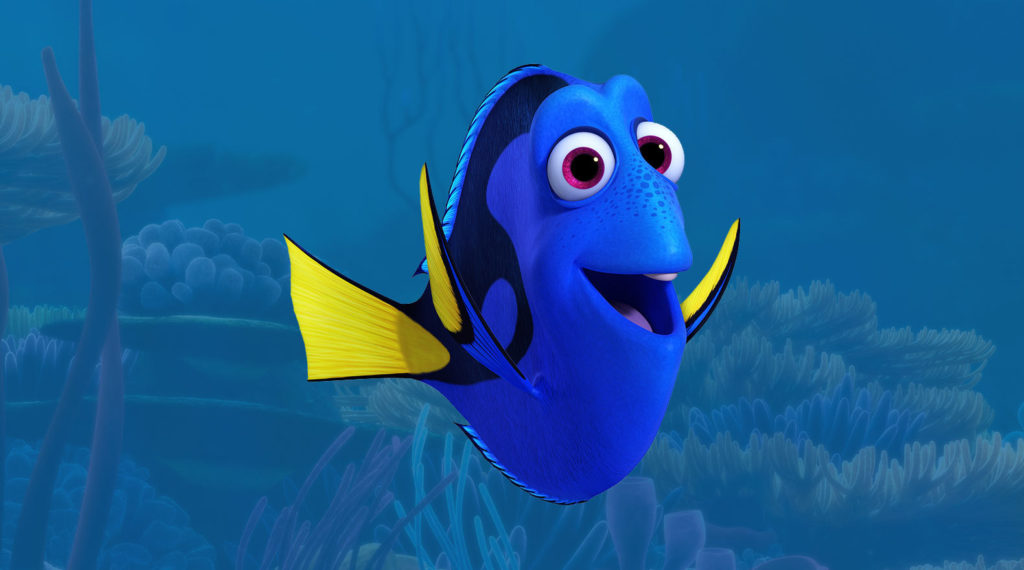 Dory is a very young blue tang (an ocean fish) who suffers from short term memory loss. The story is delightful and about as dramatic as a children's movie can be.  She gets separated from her parents and is looking for them but eventually can't even remember who she is looking for.  The story is a long and tangled tale of how she travels the ocean and eventually reunites with her parents and makes her way home.
Some of you might be thinking, I can't learn any lessons from a cute little blue tang with memory loss. But let's remember that most of life's lessons are learned by the time we are in kindergarten.  I have a little poem here I'd like to read as we become as little children today in order to be converted and enter the kingdom.
Everything I need to know I learned in kinder
Most of what I really need
To know about how to live
And what to do and how to be
I learned in kindergarten.
Wisdom was not at the top
Of the graduate school mountain,
But there in the sandpile at Sunday school.
These are the things I learned:
Share everything.
Play fair.
Don't hit people.
Put things back where you found them.
Clean up your own mess.
Don't take things that aren't yours.
Say you're sorry when you hurt somebody.
Wash your hands before you eat.
Flush.
Warm cookies and cold milk are good for you.
Live a balanced life –
Learn some and think some
And draw and paint and sing and dance
And play and work everyday some.
Take a nap every afternoon.
When you go out into the world,
Watch out for traffic,
Hold hands and stick together.
Be aware of wonder.
Let's jump right in with Dory and the gang and see what we can learn from the Word and Dory and the gang
The first thing, we must learn is that LIKE DORY…
MOST OF US HAVE SPIRITUAL SHORT-TERM MEMORY LOSS.
I know you are thinking, I don't have short term memory loss. I can tell you exactly what I had for breakfast. Maybe you can even remember how many blueberries were in your pancakes this morning.
Or maybe you can tell how many sparkles were on your Krispy Kreme. Or you may be able to remember all the things that happened to you as a child.  You may have a photographic memory but why is it then, that  the bible constantly exhorts us to…
Remember
To not forget
To call to mind
To remind ourselves.
Here is why…because if we forget what is in this Word. The warnings in it.  The lessons in it. The teachings in it. The prophecies in it. The examples in it. The hope in it. The great God that we have that is described in it. We will find ourselves in trouble. And our lives will become less than what they were.  But If we remember those things our lives will go better.
We are going to discover in the life of Dory that her short-term memory loss got her into some serious difficulty. Why? She forgot to listen and obey one little warning from her parents.  Even ignoring one little warning from the Word can get you in a predicament you don't want to be in.  A lot of believers need to be reminded of what is in the Word.  It is in the word that we learn that we need a Savior. It is in the word that we learn how to be forgiven, cleansed, made new. It is in the word we learn of the greatness of our God.
Let me share with you a passage that tells us that we are to not be a forgetful hearer.
James 1:22-25  "But be doers of the word, and not hearers only, deceiving yourselves.23 For if anyone is a hearer of the word and not a doer, he is like a man observing his natural face in a mirror; 24 for he observes himself, goes away, and immediately forgets what kind of man he was. 25 But he who looks into the perfect law of liberty and continues in it, and is not a forgetful hearer but a doer of the work, this one will be blessed in what he does."
 Wow, you didn't know the bible confronts your short-term memory loss. We are like a man who looks in a mirror and sees his face, and then forgets what he looks like.  As we look into the Word it is important that we do not forget what we have seen there.  James tells us that sometimes we observe ourselves in the Word and then forget who we are immediately.
Some might say, Doesn't the bible tell us that we are just a bunch of no good for nothing sinners?
Doesn't it make us feel bad because you just feel condemned?
Doesn't it just make you feel terrible when you read the bible?
If that is your thought, you have never read the bible! This is not a book of condemnation. It is a book of how to escape condemnation.  It is not a book to show you that you are a worm…no, no, no…it is a book that shows you the right path. It is a book that describes Gods love for us, not his hatred.
The Bible certainly does challenge us to look at aspects of our lives that are not pleasing to God, but it shows us how we can be free from that!  But if you look and hard enough into the Word you will discover what James calls the perfect law of liberty. That law tells us we can be free!
David Powlison has written that "the only way we ever sin is by suppressing God, by forgetting, by tuning out his voice, switching channels, and listening to other voices. When you actually remember, you actually change. In fact, remembering is the first change."
Let's not forget God!
Is there anyone reading this who has ever moaned and groaned or complained?  I have. I have said, "Why is this happening to me? Why do I have to go through this?"
There is one thing about Dory. She was not a complainer. She probably forgot to complain. She is a happy little fish. But when we complain about things…we are having a short-term memory lapse.
We are forgetting how great our God is. We are forgetting the power he has. We are forgetting that the same God that divided the Red Sea, that provided manna for the children of Israel is our God.
The same Jesus who healed the leper, multiplied the loaves and fishes, calmed the storm, and walked on water, and raised the dead.  He is our God.  If you remember God, you will stop complaining and start praising.
Do what James says to do, stay in the word and don't forget what it says about you.
It says…you are more than a conqueror!
It says…you can be free!
It says…you are loved!
It says…you can have peace and joy and love!
Why do believers sometimes forget?  The bible tells us we fill ourselves up on other things.  Hosea 13:6  that sometimes people fill themselves up on the temporary things of life.  "but when they had grazed, they became full, they were filled, and their heart was lifted up; therefore they forgot me"
 It is easy to get so wrapped up in the music of our day.
Wrapped up in our job.
Wrapped up in family stuff.
And wrapped up in the movies.
And wrapped up in your friends.
And listening to facebook.
And doing all these things.
We get filled up and satisfied and we forget God.
Is there anyone who is grateful for what the Lord has done in your life?
Can you look back and see where he brought you from?  Is there anyone who can remember the pain that living a life away from God brought?  Deuteronomy 6:12  says,  "then take care lest you forget the Lord, who brought you out of the land of Egypt, out of the house of slavery"
 Take care to not forget the God who brought you out. If you have a conversation with a brother or sister who has stumbled and found themselves in a place they don't want to be, and they come and say, I don't know how all this happened. Why did I do what I did? How did I end up here?
Listen don't join into Satan's work of condemning and accusing. Just tell them you forgot who you are.
You are a son or a daughter of God. You are loved. You are redeemed.
2 Peter 1:9 says that they have forgotten what God has done for them "…and has forgotten that he was cleansed from his old sins."
They have been made a new creation.  They now have the ability to choose what is right. The mind has this great power: It can talk to itself by way of reminder.  The mind can "call to mind." For example,  Lamentations 3:21-23 RSV "But this I call to mind, and therefore I have hope: 22 The steadfast love of the Lord never ceases,[b]  his mercies never come to an end; 23 they are new every morning;   great is thy faithfulness."
 But this I call to mind, and therefore I have hope: If we don't "call to mind" what God has said about himself and about us, we lack hope!
Don't get stuck in the mud of godless messages.
I mean the messages in your own head.
"I can't . . ."
"She won't . . ."
"They never . . ."
"It has never worked . . ."
The point is not that these are true or false.
Your mind will always find a way to make them true, unless you "call to mind" something greater.
God is the God of the impossible.
Reasoning your way out of an impossible situation is not as effective as reminding your way out of it.
Remind yourself of what the Lord has done.
Remind yourself of his love.
Remind yourself of his faithfulness.
Remind yourself of the cross.
Remember who you are.
In fact, Dory's journey toward her family began when she remembered.
There is a second lesson we can learn from Dory.
LIKE DORY,  We must
WATCH OUT FOR THE UNDERTOW
In the movie Finding 2016, part of baby Dory's education was that she was told by her parents to watch for the undertow.  In fact, her mom and dad taught her a cute little song to sing to help her remember.  It kind of went like this:  We see the undertow and we say heck no!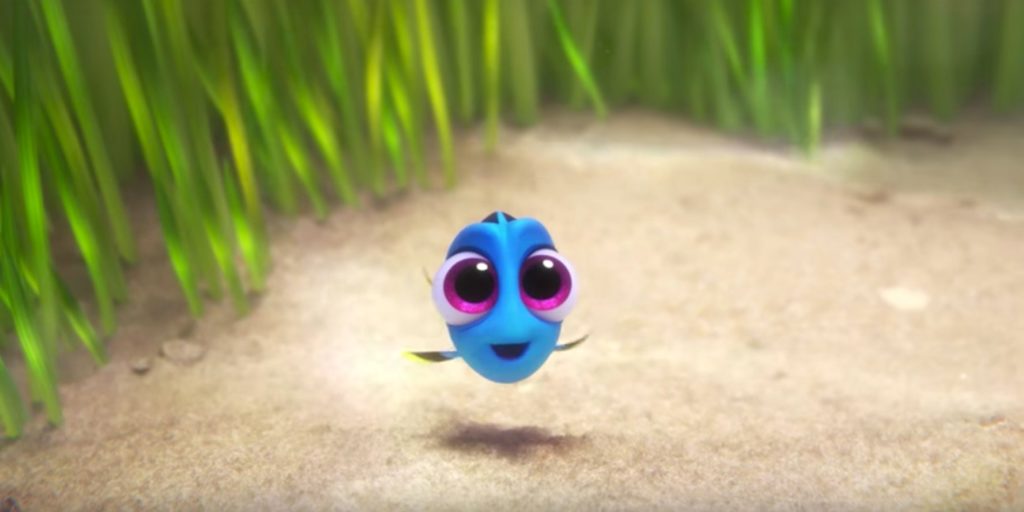 As you watch the movie you see baby Dory playing hide and seek and she turns and sees the bubbles and the swirls and she forgets the warnings and swims towards it. Unfortunately little Dory didn't heed the wise of her mom and dad.
For those of you who don't know what undertow is let me give you the Merriam Webster definition:  An undertow is a current in the sea or ocean that is below the surface and that moves away from the shore. Of course, we know that the shore is where safety lies. An undertow is a current that pulls you away from safety.
And what happened to baby Dory is sad.  She was playing hide and seek with mommy and daddy.  And she saw the bubbles in the undertow and caught up in it.  That is how she got lost.  We can learn a powerful truth from finding Dory. If you get caught up in the undertow you can find yourself lost. I don't mean in the natural sense.  I mean in the spiritual sense.
There is a current in our society -an undertow that pulls you away from God.  Many times it pulls you away from family. It will pull you away from church family. There is a current in the world that we live in. It is called the world. If you don't watch out, you can get sucked right into it.  The current will take you further than you want to go. It will take you longer to get back than you think. It will lead you to places you may never have intended to go.  It is the undertow of the world.
Our world system creates undertow. It is Satan's plan for sure.  I don't care who you are, you will feel it in your life.
In Luke 15 there is a story of a young man. He is called the Prodigal Son.  It was the pull of the world that caused him to ask for his inheritance.  It was the pull of the world that caused him to take his money and spend it in riotous living.  He was out there in the world, doing what the world does.  And he found himself, like Dory, a long way from home, a long way from God, a long way from family who loved him, a long way.
1 John 5:19   "We know that we are of God, and the whole world lies under the sway of the wicked one."
Are you able to recognize not only that the world under Satan's sway but there is a pull there?  I wonder is there anyone who is honest enough to say,  I got swept away by the undertow! Like the prodigal, I found myself away from my heavenly father.
It is actually the story of every one of us. The undertow can get you lost.
Now there are two undertows in the movie Finding Dory 2016.
The first one that swept Dory out to sea.  And the second one that was caused the Stingray Migration.  All of the Stingrays are going in one direction and it creates a current- an undertow.  If you get close enough to people going in one direction…you can get dragged along.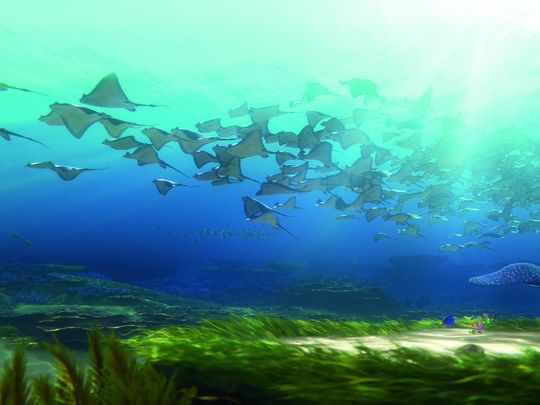 At our house, we have had many pool parties…one of our favorite games is to get everybody going in a circular motion around the pool…your movement creates a current.  When you turn around…it's like you are in a river.  Don't get caught up around friends that are going in the wrong direction or you will get dragged along.
Proverbs 12:26  says, "The righteous choose their friends carefully, but the way of the wicked leads them astray."
I remember talking to a young man, he didn't intend that day to do an armed robbery. But his friend said "Let's do it!"  He got caught up in the current, and guess what he now is a felon. Be careful of the undertow.
The third lesson is…LIKE DORY
YOUR HOSPITAL (CHURCH) FRIENDS CAN HELP  YOU GET HOME
One of the interesting aspects of the movie is the fact that Dory's parents were in the Marine Life Institute.  The Marine Life Institute was a place where animals who were broken or wounded or injured were taken to get healthy again.
As I thought about that, I thought how much should a church be like the marine life institute.  A church should be a place where the wounded and the injured, can be taken to find help and wholeness.  Can I tell you about most Christians…we are broken in some way.  We aren't completely whole.  Yes, we are in recovery.
1 Corinthians 1:26-28 Message  " Take a good look, friends, at who you were when you got called into this life. I don't see many of "the brightest and the best" among you, not many influential, not many from high-society families. Isn't it obvious that God deliberately chose men and women that the culture overlooks and exploits and abuses, chose these "nobodies" to expose the hollow pretensions of the "somebodies"?" 
We are getting better but we aren't perfect yet.  But just because we are broken, doesn't mean we can't help.
Just think of the disciples.
Peter was hot and cold.
James and John were known as the Sons of thunder.
Thomas was full of doubt at times.
They had arguments over who was going to be the best and the highest and sit on Jesus right hand.
They tried to call fire down on people Jesus was trying to save.
Yet God used them.
But let's get back to Finding Dory 2016.  Dory is inside the Marine Life Institute.  Most of her friends have problems and limitations.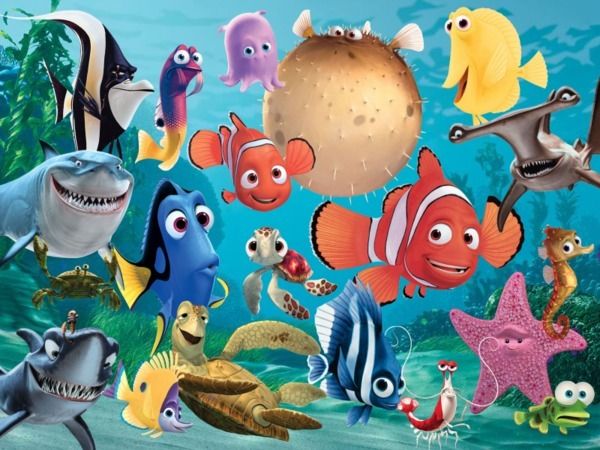 Nemo has a stunted fin that didn't grow right.
Barclay's broken echo location system.
Destiny's eyesight is so or she runs into stuff.
Hank is missing a tentacle and by the way has a lot of honesty problems.
Fluke and Rudder Seals are selfish and grumpy
Becky look hardly inspires confidence Even the Bird who totes them around in a pail is the weirdest thing you ever seen.
The people in any church are like Dory's friends.  But you know together, they can help you find your way.  The collected wisdom they have from God is incredible.
Ephesians 3:10-12  "to the intent that now the manifold wisdom of God might be made known by the church to the principalities and powers in the heavenly places, 11 according to the eternal purpose which He accomplished in Christ Jesus our Lord, 12 in whom we have boldness and access with confidence through faith in Him."
As a church, there is wisdom that God gives and it enables us, broken people, to help others..
LIKE DORY
YOUR HEAVENLY FATHER HAS LEFT A PATH THAT LEADS TO HOME
One of the most touching moments in the movie is toward the end when Dory after so many adventures and risks finds herself near where mom and dad had made their new home.  She spots a seashell, and suddenly remembers that she was supposed to follow the shells to find her way home.
When Dory was a little baby, her parents had laid sea shells in a row that lead to the place they called home.  All Dory had to do was follow the seashells to find her way back home.
Jenny and Charlie, Dory's mom and dad had faith that their long-lost child would find her way back home.  Filled with love for their wounded progeny they had apparently spent all their time, laying sea shell trails to their home.
What a beautiful tear jerking moment it was in the movie, when Dory begins to follow the shells and she sees all these different sea shell trails that lead to home. She is reunited with Jenny and Charlie.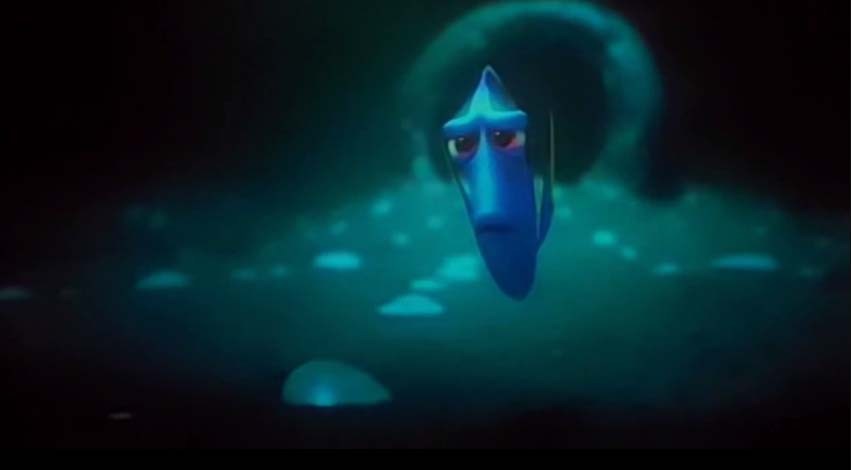 The truth is that our loving heavenly father has left us with a trail that we can follow as well.  Let me give you some of the signs God has left along the way that point us to Jesus Christ.
I know this is a little silly. Jenny and Charlie have the same initials as JESUS CHRIST!
The first path your heavenly Father laid to bring you back home is
Psalm 19:1   "The heavens declare the glory of God; And the firmament shows His handiwork."
Every time you see a sunset it us a declaration of God's glory
Your own body…the human eye.
Psalms 139:14  "I will praise You, for I am fearfully and wonderfully made;  Marvelous are Your works,
And that my soul knows very well"
How can you examine the human eye or watch a child being born and then deny the Creator?
It shows there is a creator!
The invisible attributes of God
"For since the creation of the world His invisible attributes are clearly seen, being understood by the things that are made, even His eternal power and Godhead, so that they are without excuse,"
 Have you ever thought to realize how good God is?  Most people on planet earth eat beans and rice.
The fact that there is such potential in one seed is incredible. The protein found in beans is sufficient for many even in poverty.  But beyond that, the feel of sunshine on your shoulders or the wonderful feeling of drinking water when you are thirsty, all point to a good and loving God.
Eternity stamped in our hearts
Ecclesiastes 3:11  "He has made everything beautiful in its time. Also He has put eternity in their hearts…"
2 Timothy 3:16  "All Scripture is given by inspiration of God, and is profitable for doctrine, for reproof, for correction, for instruction in righteousness,"
Ephesians 5:31-32   "For this reason a man shall leave his father and mother and be joined to his wife, and the two shall become one flesh."[e] 32 This is a great mystery, but I speak concerning Christ and the church."
Prophecies
The effects of sin in the world
The pain sin brings into our lives
The difficulty of Life
Our pains often make us realize we need God.
The self sacrifice of Christ
1 Peter 2:24   "who Himself bore our sins in His own body on the tree, that we, having died to sins, might live for righteousness—by whose stripes you were healed."
All of these things are "sea shells" that point you toward the way home? If you are wandering far away from God today, and are lost and needing to find your way home. Follow the old gospel path, come home to God.
You will have to go by way of the cross, because that is the only path that leads home. It's amazing what you can learn from Finding Dory 2016
Share this article if you enjoyed it!