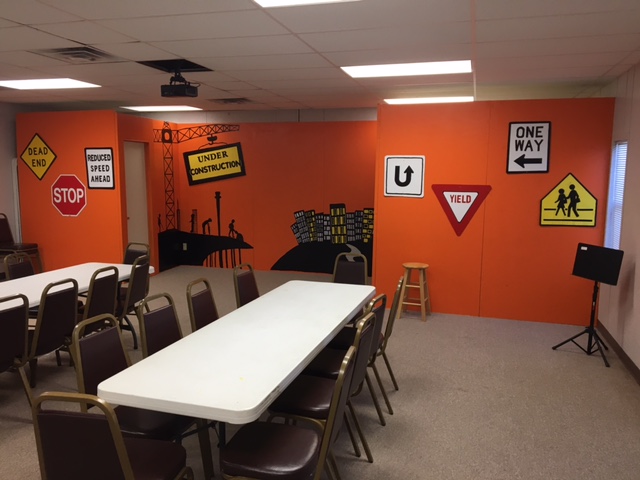 Our Beautiful New Theme for Kids Church
This picture shows the theme that we have chosen for our hopes and dreams in regard to our Sunday Morning Children's Ministry. The theme is "under construction".  Of course the lives of kids are being formed and built by the many things that impact them in today's culture. Their world view is being formed by the culture that they live in.  That is why regular and consistent attendance at a ministry can help to curb the unhealthy aspects of our culture.  Our goal is to assist parents in laying a positive biblical foundation in the lives of children.
The chief cornerstone of course is that every child would have a personal relationship with Jesus Christ by accepting him as their Savior. But that is not all that is needed to lay a proper biblical foundation.  They also need to be able to understand and interact with the bible on their level. Bible stories, object lessons, crafts, and drama, all assist in making the bible real to our children.   Of course we want our children to know what it is to praise and worship as the New Testament commands so time is given to this important area as well.  The goal is a well rounded children's ministry that brings both biblical knowledge and practical experience. Our older children serve in various ways as well.
We want all of our parents to feel comfortable as they visit our ministry. Children need to be signed in and signed out. And their is always someone available for questions.  Also we have an open door policy in that a parent or guardian may visit a class at any time or just observe through a window.  All of our classrooms have windows so that what happens can be easily observed. We want you to feel comfortable.
An effective Children's Ministry is a high priority for us at Fountain of Life.
Kathy and Oliver Blaine
We so appreciate the dedication and ministry of this dedicated couple. Oliver is a school teacher, and Kathy is also in the professional world during the week, however they have dedicated their lives to sharing Jesus with children and building them into the positive Spirit filled disciples that can make an impact in the world.  Kathy and Oliver have had experience in evangelism in apartment complexes and putting on summer bible programs for children. They bring all of that experience to bear on our Sunday morning Children's ministry.
Their teaching is always from a biblical point of view, applicable to life, and interactive and engaging with the children.  Perhaps the greatest thing they bring to the body of Christ is their love of children.